… A Concert Preview…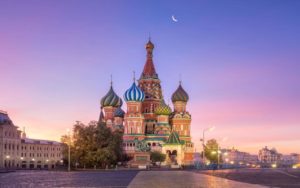 Even those of us with little exposure to classical music will find something to set the soul on fire this October, as the Cardiff Philharmonic Orchestra tune up to write a love letter to Russia in their stand out concert – From Russia With Love.
This programme is part of a city wide celebration remembering the Russian Revolution of 1917. 

The title might hint at a link to the world of cinema and for good reason – Rachmaninov's Piano Concerto No. 2 was the rousing score used at the peak of passion in the 1945 steam-train/romance classic, Brief Encounter. 

If the Italians can be relied upon to provide a spicy dish of Mediterranean melodrama in their classical music, then the Russians provide the heavy meat and potatoes needed to fuel the revolution. 
With Michael Bell on the podium and (Young Musician of the Year 2014) Martin James Bartlett on the piano, this is the stuff of true passion… Of size. Of matters beyond the individual. Beyond romance. A roaring river of passion, coursing through the land towards death or freedom.
Even to the untrained ear, this music feels that important.
And with such a rich culture behind the music, as portrayed in films from David Lean's perennial revolutionary tale, Dr Zhivago, to the children's animation, Anastasia, it's easy to understand how this music sits so comfortably in our hearts and minds.
Sandwiching Rachmaninov's most loved of concertos will be Khachaturian's Adagio from Spartacus & Stravinsky's Petrushka.
The former piece is best known to the casual classical music fan as the theme to 70s seafaring TV hit, The Onedin Line. 
Whilst the latter – written specifically for Polish ballet sensation Nijinsky – stands out as a piece entirely on it's own merit, having been a firm favourite of ballet lovers since it was first revealed to the Parisian public in 1911.
No matter where your passion lies… whether you're a lover of Russia & its bold history, or of music & ballet itself, or simply of film & television… there's a firm reason to book yourself a seat at St Davids Hall on October 20th. 
Because, as Shakespeare reminds us… if music be the food of love, play on.